It must be at least a decade since I first read Brideshead Revisted and became aware of the concept of eating quail eggs. Plovers' eggs are the more prominent egg in this amazing novel:
He was alone when I came, peeling a plover's egg taken from the large nest of moss in the centre of the table … 'The first this year,' they said. 'Where did you get them?'

'Mummy sends them from Brideshead. They always lay early for her.'
But quails' eggs also make an appearance to suggest Sebastian's decadent Oxford lifestyle:
He had little things delivered to his rooms: quails' eggs, bottles of crème de cassis, tappenade and little cheese biscuits, and they ate them slowly, forgoing proper meals for the little savoury squares and the creamy eggs.
I never sampled the delights of quails' eggs during my time at Oxford, but got my first taste of them at Portabello's, a nice restaurant in the Summertown part of Oxford, a year or so later. They are such beautiful things, so small and perfectly formed and speckly.
I got these ones from Waitrose and I love the claim on the packaging: "Fabulous eggs by fabulous birds". I agree – they are rather fabulous. I would say that their novelty is a major part of the appeal, but they do make great little 'snackettes' or a posh apperitif.
I don't know whether they're enjoying a surge in popularity at the moment, but I'm seeing them everywhere all of a sudden. That might just be because I've recently converted from supermarkets to farm shops, though.
I hard-boiled some to have with dinner the other night and served them on the table in their shells. It only takes about a minute or two! I put an extra bowl on the table to put the shells into and a small quantity of celery salt on a plate in which to dip them once peeled.
You could also fry them; I spotted this on Justataste.com: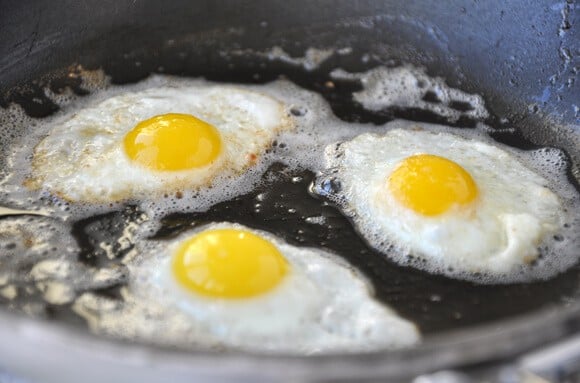 I think I'll probably save that one for a hilarious practical joke next time Lee wants a fried egg!